every STUDENT deserves a voice
K-12, Express Your Self at Friends Meeting School
Dear Friends,
I welcome you to Friends Meeting School. Our academic, social and spiritual curricula all focus on building the communication skills that allow our students to find their voice so that they can act on it, bringing joy and opportunity to their lives.
Confident communicators examine ideas and challenge assumptions. Caring communicators allow space to listen and witness with the hopeful expectation that the truth will reveal itself. Courageous communicators explore differences to find common ground. As the world comes to recognize this need to listen with intention and question with respect, the value of a Friends Education comes into direct focus.
Our strong community works together enthusiastically on a wide array of missions. Every educator, volunteer, parent and student contributes to a bright future for each other, for our community, and for the planet.
Please explore our site, and contact us for a private tour that fits into your schedule. I am confident you will see how we build community, capture imagination, express creativity, perform service and learn through joy, curiosity, and equal opportunity.
We hope to meet you soon.
Peace,
Mara
Mara Y. Nicastro,
Head of School
FRIENDS MEETING SCHOOL
3232 Green Valley Road (MD-75)
301-798-0288 info@friendsmeetingschool.org
All Ages. All Kinds.
All Together.
OUR MISSION:
Friends Meeting School enriches and fortifies the mind, body, and spirit of all in our community within a diverse academic environment dedicated to universal Quaker values. Our dynamic experiential education empowers students to realize their full potential and gain the courage to let their lives speak.
SEEK AND SPEAK TRUTH AND LOVE
Learn more about our schools:
This personal, college-preparatory program has helped 100% of our graduates get accepted to their top-choice colleges. Close relationships with academic advisors and a devoted College Counselor help students (and families) to make informed decisions, and Honors- and AP-level classes prepare students for the rigors that follow.
A K-12 Community has unique strengths:
6-year-olds clapping for every College Acceptance.
7th Graders taking High School Math.
4th Graders teaching 8-year-olds.
The perspective gained by always having someone to look up to - or someone to be responsible for - can't be replicated.
When your child goes to the same school for their whole career,
They can actually take ownership of their own education.
They form closer bonds and relationships over time than they could anywhere else.
Parents get free time, since they can pick up all their children at the same place at the same time!
Quaker Schools are Friends to All
Anyone who lives inside the United States can never be considered an outsider anywhere within its bounds.
- Dr. Martin Luther King, Jr.
Friends Meeting School is an inclusive community guided by the core Quaker principle of Equality and a deep understanding that greater diversity brings greater learning. We actively pursue openness, justice, and equity through academic and social education, service, enrollment, administration, and governance. We are committed to explore an ever-changing world full of critical challenges that demands and benefits from compassion and courage. A diverse and informed community here changes the world.
It's been almost 400 years since George Fox was born. But the religious society he helped to create, the "Friends of the Truth," have had an overwhelming impact on the United States' role as a melting pot of cultural diversity. Friends Schools were among the first co-ed schools, the first integrated schools, and continue to play a major role in providing equal access to education.
The philosophy of Friends Schools all around the world centers on the twin pillars of Experience and Inquiry. An Experiential Education has students learn by doing, not just hearing or seeing, and a focus on Appreciative Inquiry -- what we often call "Joyful Curiosity" -- develops problem-solving and big-picture thinking - essential skills in this 21st century.
As a Quaker school, part of the Friends Council on Education, Friends Meeting School is committed to the ideals of the Friends Schools, and wholeheartedly embraces Quaker traditions. For instance, every student participates in our weekly gatherings, called Meetings for Worship, which provide a quiet, safe space for them to explore issues important to them on moral, social, and spiritual levels.
OUR PHILOSOPHY
Mind, Body and Spirit
There are three pillars of growth: Mind, Body, and Spirit. When any one of these is nurtured to the exclusion of others, children grow up with an unstable foundation. But when all three are brought together and given equal weight, students have a sturdy base from which to reach higher than ever before.
Friends Meeting School develops this "whole child," supporting vigorous academics with physical, social and values-based curricula to produce well-rounded citizens of the planet. Small classes allow teachers to individualize their lesson plans, meeting each child where they start and keeping them engaged at the highest level of their ability. Responsive Classroom® techniques, along with differentiated instruction, allow students to take more responsibility for their learning and find joy in each new discovery.
Nature & the Outdoors
Learning, from the Ground Up
Mother Nature plays a vital role at Friends Meeting School. Our expansive outdoor campus supports our students' active lives every day, when children of all ages explore and traverse the natural world around them—even when simply walking between classes. From our youngest students' regular hikes through 50 acres of farmland and forest, to our High School Biology classes' direct access to 7 unique biomes, Science and Nature intermingle at all levels of our program.
Outdoor classrooms and activities (like weekly hikes) help the students stay connected to the natural world around them.
Our annual Stewardship Day is just one of many days when students work together, outside the classroom, to take responsibility for the spaces that are important to them.
Steering your Spirit
A universal framework for making moral decisions
The History of the Society of Friends is one of long-held principles and steady activism, starting in the 1640s when George Fox split from the Church of England in defense of his belief that everyone can be filled with the light of God, and that no single clergy or church has a monopoly on the Truth. Friends have long led the way on equal rights, founding some of the first co-ed and integrated schools in America, and hosting the majority of stops along the Underground Railroad.
There are six main tenets, or "Testimonies" that give Friends Meeting School a set of universal vocabulary to address during social, emotional, and spiritual discussions.
SIMPLICITY is the quest for a clean slate - a lack of distraction - that allows us to be present to every moment.

PEACE is the idea that any dilemma can be solved in a way that brings the parties closer together; our "Restorative Resolution" peer mediation program exemplifies this core value.

INTEGRITY means always being true to one's self, and treating one's word as a bond.

COMMUNITY is the glue that holds us together, and keeps each person connected with those around them.

EQUALITY helps us enrich our lessons - and our community - with empathy and understanding across all sorts of boundaries.

STEWARDSHIP teaches our students how to be responsible members of a community, and to live lives that speak for themselves.
Friends Meeting School follows the traditions of the "Unprogrammed" branches of Quakerism, which allow for students of all faiths and all backgrounds to have an equal say in our weekly Meetings for Worship. This allows students of wide-ranging perspectives to meet together and discuss the pressing issues of the day.
ARTISTIC creation
Transformative Self-Expression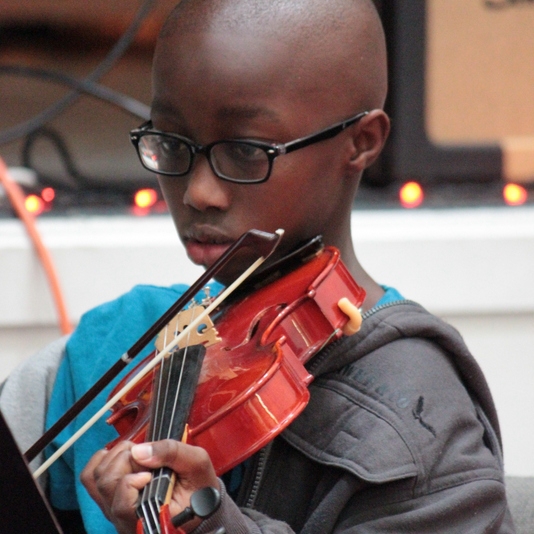 Every Middle School student sings, acts, and gets to play an instrument - from Electric Guitar to Clarinet! Students choose the instrument(s) that speak to them, and decide whether to stick with it and dive deep, or experiment with a wide foundation by changing instruments often.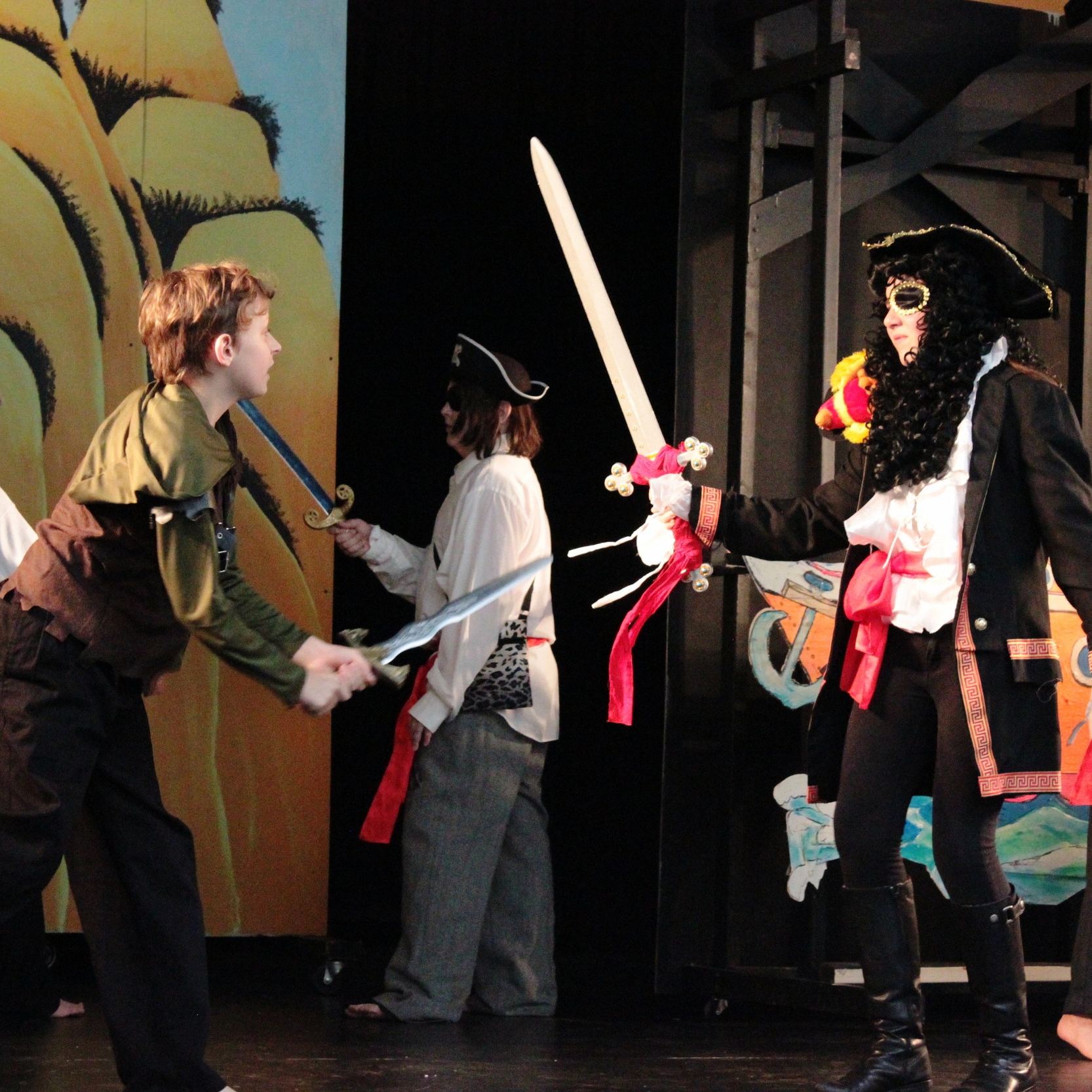 Peter Pan and Captain Hook face off in a Class Play, which are performed by every student from K-8 and help foster a culture of appreciation for all expression. Stage fright and public anxiety quickly become a thing of the past!
Parents, students, and teachers of all backgrounds unite to bring together the annual Community Play, performed each year at a professional theatre by students in Grades K-12. All proceeds each year are donated to a local charity.
ATHLETICS FOR ALL
Our world-class gymnasium, weight room , GaGa pit and soccer field serve us equally well, through athletic and physical education programs designed to bring the best out of every student. Students of all ages take a PE class every other day or so, and Middle and High School students have the chance to form competitive teams that travel to face off against other small schools in the region, fostering camaraderie that lasts a lifetime.
Equal Opportunity Athletics
If you practice, you play. No matter what your experience level, you'll get to show your skills on the court, track, or field. The more you prepare, the more you get to play, until you're leading one of our teams yourself!
Depending on interest, Friends Meeting School often fields competitive (or at least cooperative) teams in Soccer, Basketball, Track & Field, Cross Country, Softball, Volleyball, and more!